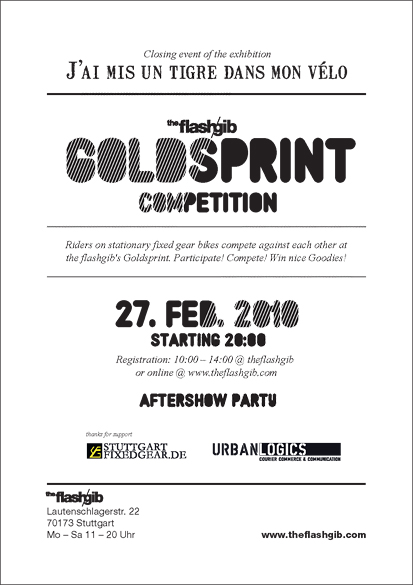 Heija!
We invite to theflashgib Goldsprint competition, where riders on stationary bikes compete against each other! The competition is part of the group exhibition" J'ai mis un tigre dans mon vélo" which is based on the fascination around fixed gear bikes and the associated urban lifestyle. We aim to bring this lifestyle directly into theflashgib, to run a competition in an artsy environment and to provide a showcase for the riders as well as the art itself.
Be part of this and register for free here or just come to theflashgib on saturday
And we heard rumours about a trick contest!
Stuttgart Fixed Gear plays polo on saturday and sunday!
Who´s in? Write me a Message!
For those who like to be part at the Aftershowparty – and have no place to stay so far – here are some adresses of central hostels & hotels
http://www.inter-hostel.com
http://www.alex30-hostel.de
http://www.hotelamwilhelmsplatz.com
when & where:
27.02.2010 at 20:00
theflashgib
Lautenschlagerstr. 22
70173 Stuttgart