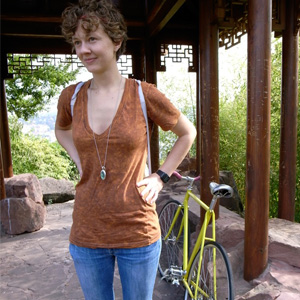 Bikes total / fixed:
3.5/2
Bike usage:
moving around, meeting germans, showing the boys how to do it
Gear ratio:
47/18 and 46/17


Short Questionnaire
When and why did you start riding fixed?
starting riding a little over two years ago. i realized i could trade my heavy road bike for something light with fewer breakable parts. it made my daily mode of transportation more enjoyable. oh, and color coordinating your bike is fun.
How many and what kind of bikes do you have?
beater bike Schwinn Traveller (fixed road conversion, but my original fixie), Vivalo track bike, GT Lotto team road bike, '84 Ciocc road frame (my .5 bike)
What bike related injuries did you have to suffer already?
i got hit by bike, but my only damage was a large bruise. and i got a new bike.
What do you like most about riding in Stuttgart?
the scenery makes me feel like i'm in a european movie. except i'm not in a movie. i live here.
What do you hate most?
i don't want to take the hill default, but there is a killer hill and set of stairs for me to get home. and it's too cold.
my sexy Vivalo